Paediatrics
Osteopaths are professionals trained in how to examine, assess, diagnose and treat many injuries and conditions. Osteopaths offer advice on posture, exercise and stability. We help the body to adapt to the changes of growth.
Suzanna tutors in paediatrics at Nescot in Epsom to the degree and Masters degree students in their paediatric clinic. This takes the students from their first basic encounters with paediatric patients to having the confidence, ability and skills to successfully manage paediatric cases once they graduate.
Babies
Cranial osteopathy is a very gentle form of treatment used to treat babies, children, teenagers and adults. It works on stresses and strains found in the body using very gentle hands on techniques. It does not cause discomfort during treatment but allows tissues to loosen so that the body can work effectively.
Sometimes when babies are born the delivery may be difficult, long, caesarean section, or assisted with forceps or venteouse. This can cause a degree of stress on the baby and mother. Babies can be born with bruising or swelling or twisted in the wrong position due to birth trauma/position. This can sometimes leave the baby feeling uncomfortable and unsettled. They may have colic or an unusual shaped head. They may find it difficult to feed or turn their heads into certain positions. This is something we may be able to help with.
Treatment is safe for your baby.
Children and Teenagers
During childhood and teenage years there are headaches, muscle tension, asthma, poor (slouching) posture as a result of prolonged sitting, playing computer games or homework on laptops or from carrying heavy bags. We can help with the symptoms of growing pains. We will look at addressing posture, stretching, strengthening and easing pain through osteopathic techniques. This will hopefully help to prevent any long term problems.
Osteopathy can help with the symptoms associated with:
Unsettled behaviour/excessive crying
Colic
Plagiocephaly (flat or odd shaped head)
Sleep disturbances
Feeding difficulties
Ear infections
Asthma
Cerebral palsy
Headaches
Sports injuries
Growing pain
Postural problems
Sinus problems
Abdominal migraine and much more.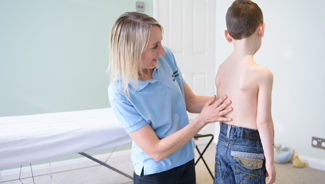 Mums, don't forget to look after yourselves too!
Suzanna has a good relationship with the Horsham NCT, breast feeding counsellor and local midwife.